Background and Influences in Gary's work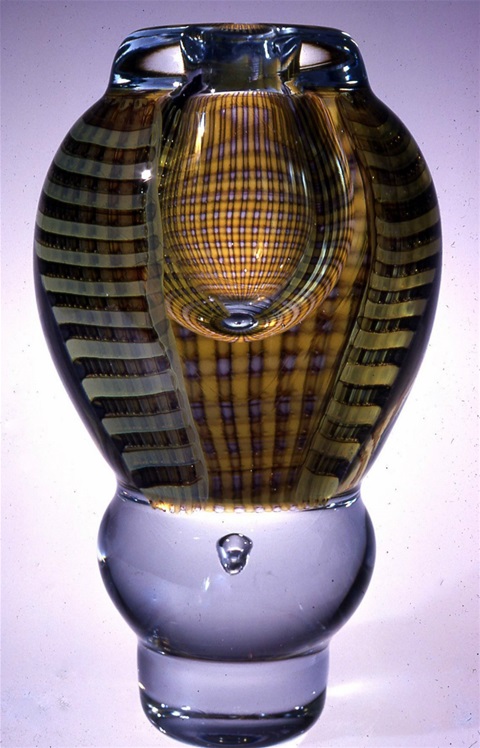 Much of Gary's work has been heavily influenced by ancient glass, both in form and in technique. The ancients treated glass as a plastic gem material, a substance that could be colored, stretched, melted and carved by the maker. Gary has experimented with countless ways of manipulating glass involving blowing, fusing and cutting. Over his thirty-four year career, he has become well-known for heavy, thick-walled vessels. For the imagery in these pieces, he first makes up a wide palette of colored overlay rods. Some pieces contain textile patterns that are then introduced into the crystal glass piece as it is being blown, creating the illusion of glass "fabric" floating in the bowl of the vessel, often with a second or third pattern appearing on one of the vessel's reflecting surfaces. Others, incorporating complex millifiori, are formed into mosaics of brilliant color. The imagery of these pieces has been suggested by influences as divergent as astronomical forms, undersea creatures and figures from a Persian rug.
Gary's work is shown and appreciated internationally. He is represented in corporate and museum collections world-wide. Over the years, he has maintained a strong presence in Germany where he had a solo show in 1984. He has a gallery in the south of France where he is a featured artist. In 1998, he received a Silver Prize in the International Exhibition of Glass Kanazawa in Japan, where he has shown regularly since 1985. Here at home, he was recognized by the NC Arts Council in 1996 for superior achievement by a Visual Arts Fellowship Grant. This grant allowed Gary to pursue The Expanding Universe series, a body of sculptural work that has grown out of his use of colored overlay rods and fusing. Of this series, Gary says, "Since I was a boy, I have been an avid science fiction reader fascinated with concepts of space and time. Photos from the Hubbell Space Telescope showing ancient galaxies on the edge of our present visible universe planted the seed for my series in glass and metal."
Techniques developed for The Expanding Universe series were later transferred closer to home. Gary then turned his attention to the beautiful surroundings of his native mountains and scenery in exploring his Appalachian Landscape series. He has endeavored to fuse the pointillism of Seurat with the depth, color and dimension possible in glass with a wish to do justice to the majestic terrain of the Western North Carolina area, especially along the Blue Ridge Parkway.
Current directions in Gary's work reach back to his love of Hellenistic glass. In that period of Greek history, glass sculpture and fabrication relied on factories producing billets of clear and colored glass. Artists purchased this glass to fuse into molds. The raw molded pieces were then carved into their final forms. The Vitrolith series draws from the shape of ancient fortresses and standing stones using some of these early techniques.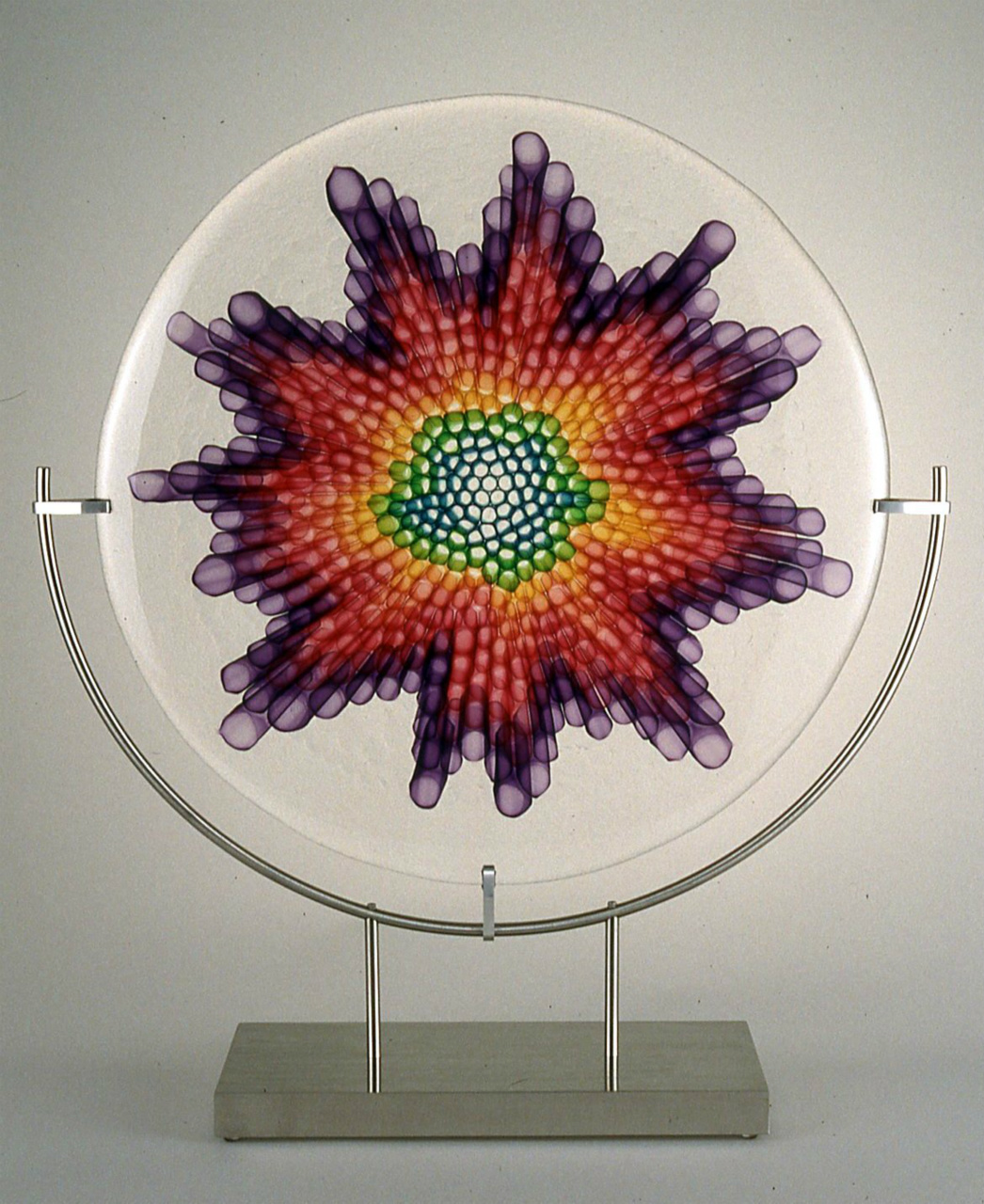 "Red Shift" from the Expanding Universe Series, NFS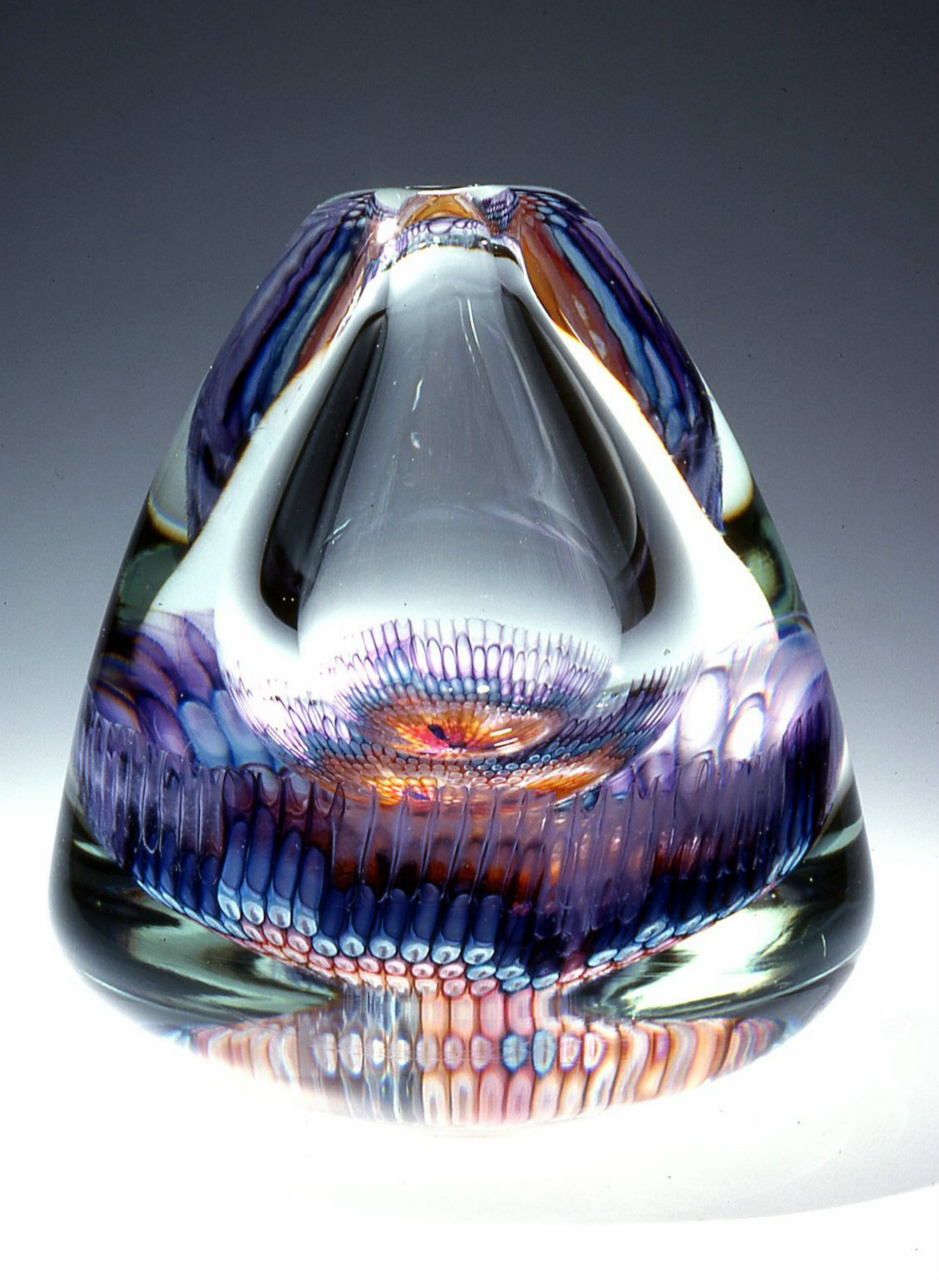 "Color Study Vessel, Persian Element", NFS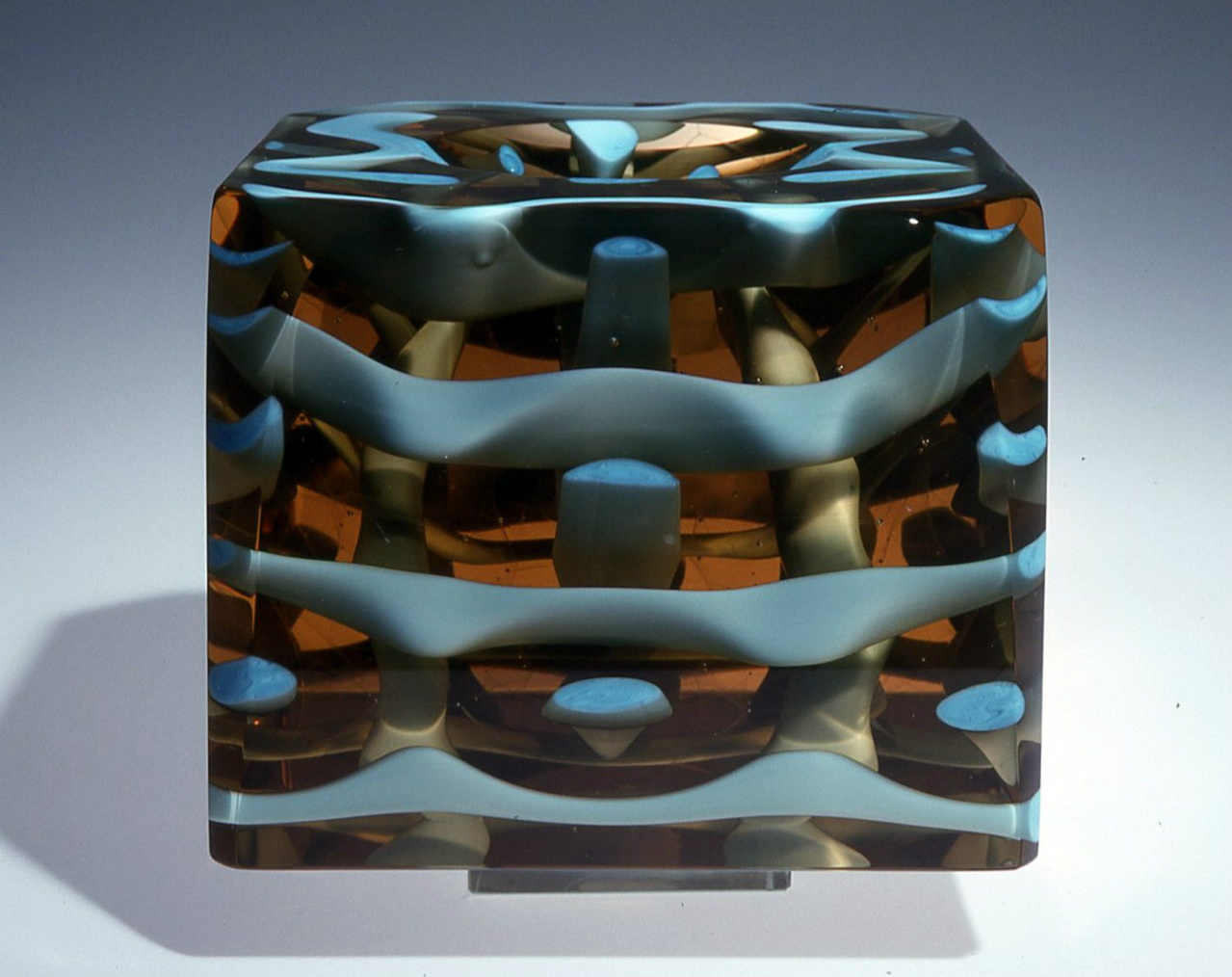 "Temple of the Sun", NFS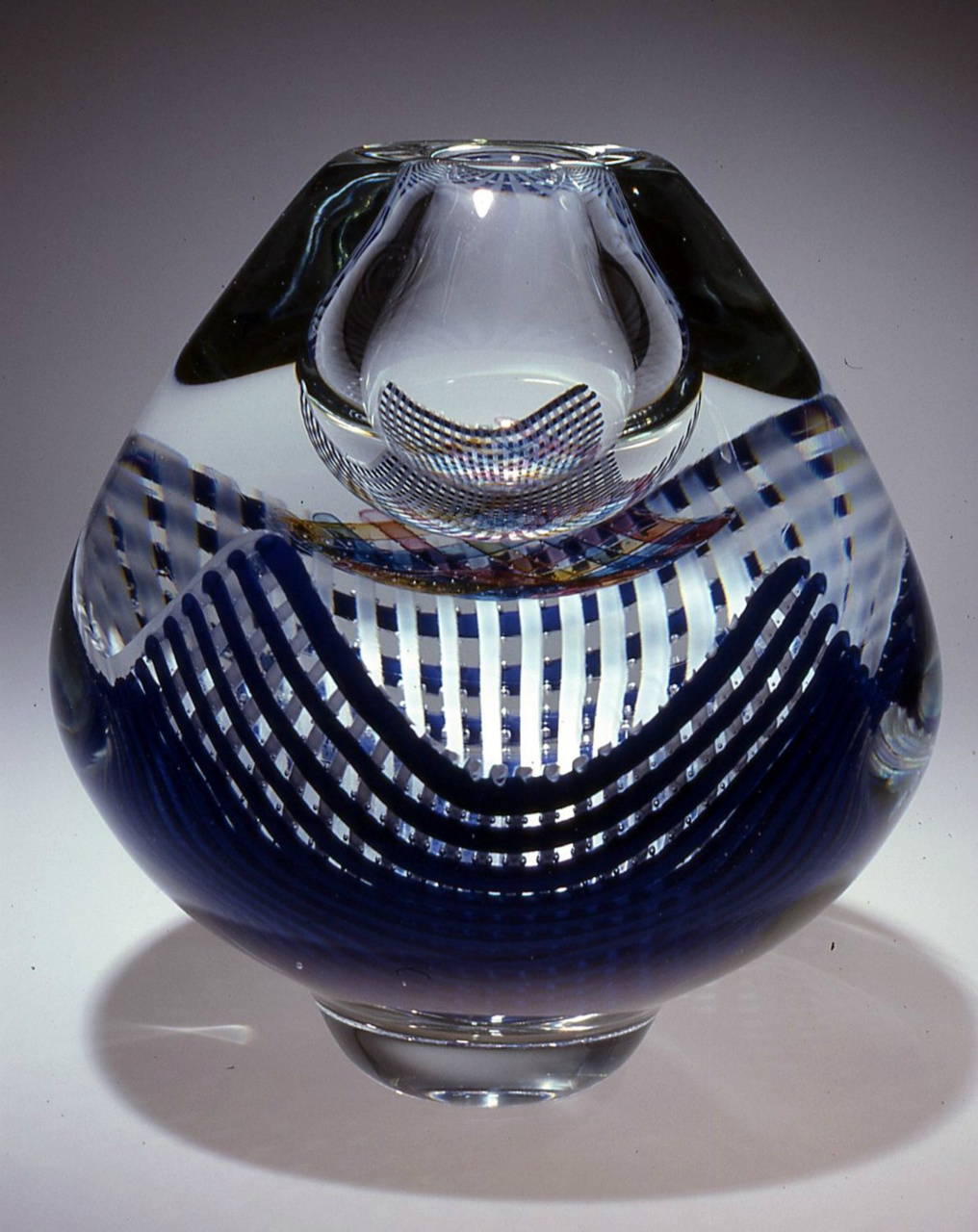 "Double Textile Vessel", NFS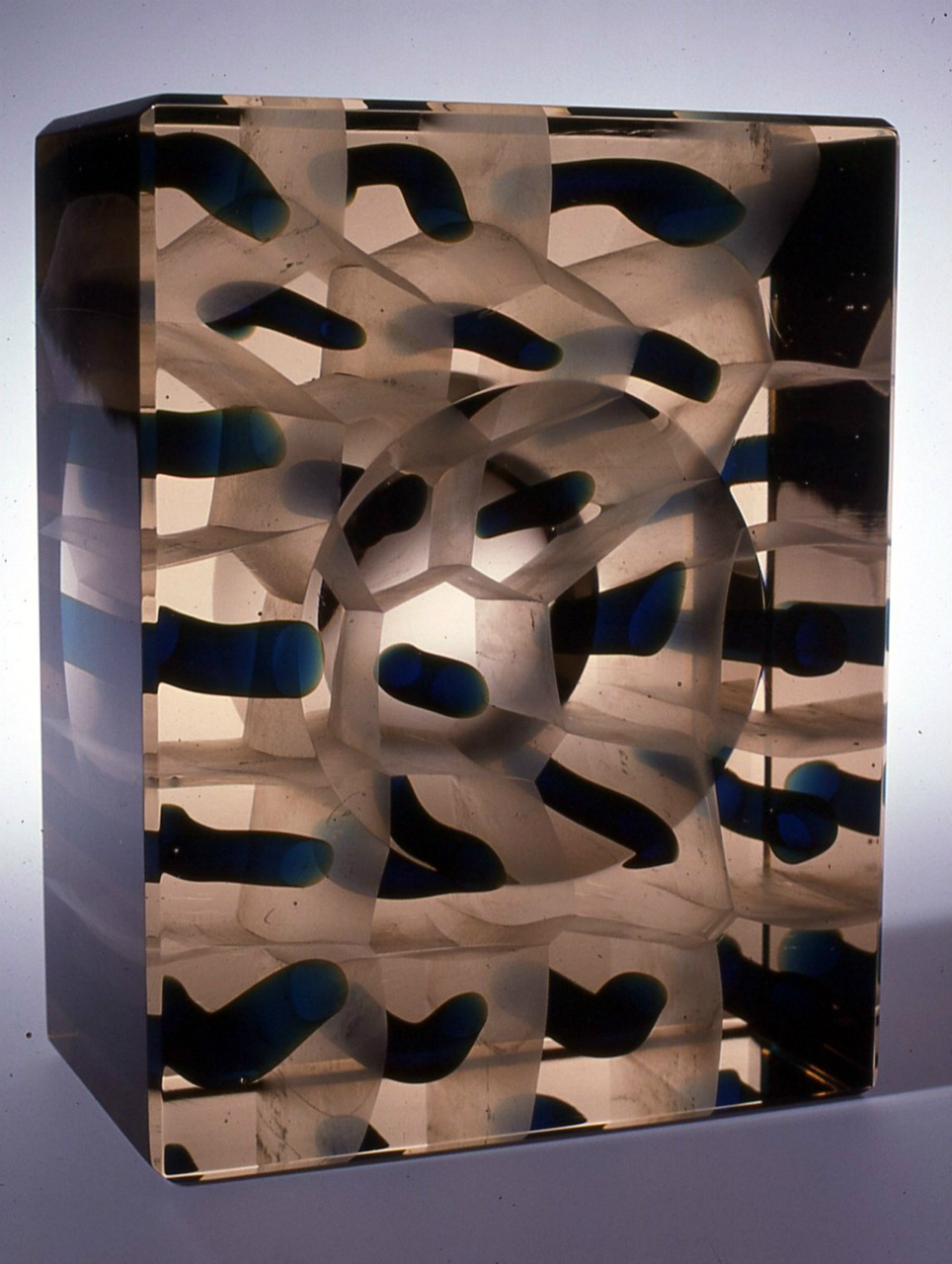 "Fused Block", NFS